Have you checked out my latest new release?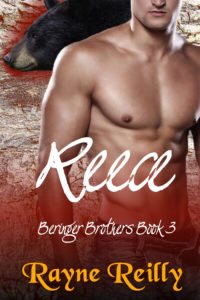 All of my books are available worldwide now, and presently I have none in KU. But that might change with future books.
I've completed the Beringer Brothers Shifter Series with REECE now available above.
My books have steamy scenes but great plots as well. I love well developed characters.
Though I write books that end up becoming series' you will never find a cliffhanger. All my books are a complete story.
I promise you will always find an HEA. NO cheating, and the males in the books are sweet with the occasional grump.
Though my books are standalone novellas, they are part of a Series since they take place in the same Universe in each series.
Characters have a tendency to appear in more than one book. But each book has its own couple working through challenges to be together.
Unless otherwise noted, ALL my books have some swearing and steamy love scenes and are for Adults over 18 years of age only.
Copyright © 2022 Rayne Reilly. All Rights Reserved.