Pleasantville Shifters Series
This series has adult content.
Click on books to purchase.
How long can she ignore mutual hunger?
Marcy Wright hopes her new job at Bear Bones Construction will provide a fresh start and help her leave the past behind. Her plan to keep her love life and work-life separate becomes difficult when the sexy company CEO, Austin Morgan, takes an interest in her and makes her blood sizzle.
Despite being successful, handsome and rich, bear shifter Austin Morgan knows something is missing. When his business partner Bern hires a curvy and attractive accountant, he realizes what he's been longing for: his perfect mate.
With obstacles in the way and trouble brewing, can he convince Marcy that she's his sole desire? Or will she insist on staying in her comfort zone of being alone, and thus, put herself in unwitting danger when her past comes roaring back?
Are all shape-shifters really dangerous?
Twenty-nine-year-old, curvy and outspoken Amara thinks so. She's carrying a secret, causing her to fear all shape-shifters. She is also fed up with seeing other people getting their Happily Ever After, while she remains alone.
Bern, a sexy and successful bear shifter, is tired of being alone. He's ready to settle down and eager to meet his mate.
Does Amara have the strength to move beyond her fear and finally have her own Happily Ever After? Or will she allow her past to ruin everything?
Will her secret destroy her future?
When an accident sails Dayna's car off-road, it brings a hot cop into her midst, which is the very last thing she needs: both the hotness and the police all up in her business. Will she allow the feelings between them, to force her to confront everything she's both chasing and running from?
Shifter police officer Jake Braeden can't figure out why a woman in need of help is reluctant to get it. But that question is the least of his worries when they soon become embroiled in a mystery involving corruption and murder. Pulled further together by circumstance, as their interactions heat up, so does a dire threat to Dayna's Life. If she survives, can their attraction bloom into trust and real love?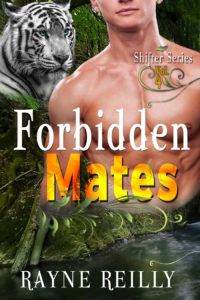 Following your own rules can be dangerous. Following your heart can be deadly.
Against her wishes, FBI Agent Julie Williams is transferred to a new shifter task force where she meets tall, dark and mysterious Xander Bachman.
The couple along with Oroc, an ancient Pure One Vampire, are in a race against time to stop the oncoming conflict between Shifters and Pure One Vampires.
Under threat of death, Julie and Xander have no choice but to get as far away from Portland as they can – and fast. Their exile takes them to Europe and leads them on an entirely new path, while Oroc has an adventure of his own that ties Julie and Xander together in a way that even they didn't expect.
Copyright © 2023 Rayne Reilly. All Rights Reserved.